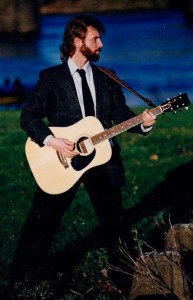 Welcome to the official Dave-Michael Valentine web site.
THE DMV CHALLENGE

Cover any DMV tune and notify of your youtube posting, we'll list it here and promote the hell out of your band!

Of, course we want to hear your own special sound, treatment, arrangement and style reflected in the cover.

Yeow!
This site is an effort to collect data, information, photos, recordings of Dave-Michael Valentine performances and songs which seem to span from 1974 to 1994.
Performances appear to have been predominantly restricted to the Pacific West Coast of the United States, specifically in order of activity:
Washington State
Oregon
California
Alaska
Ten years ago, there was no need for an official site to preserve the artist's work because it was readily accessible via the Internet. For whatever reason, the works of Dave-Michael Valentine and many other Pacific Northwest independent singers, songwriters and musicians began to fade away.
We hope that you enjoy this site, remembering the works of Dave-Michael Valentine and his contribution to the Pacific Northwest music scene.
Shout Out:
If you have any data or recordings, please contact us at admin@davemichaelvalentine.com to help us preserve these works.
~Admin