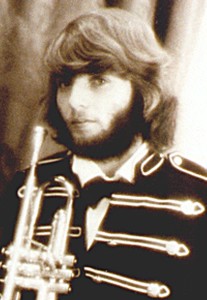 About the artwork: Okay, I have to admit it – I'm not a graphic artist. This was a sketch for a photo that I was supposed to take for the cover. The photo never happened, so you get the sketch. The garbage cans represent my troubadour-past, and I feel as though, I'm putting a lot of my past behind me, so that I can forge forward with my new life, wife and family.
Daddy, Where Are You? is a simple child-like cry of a son, who doesn't know the identity of his biological father. I wrote this, after my failed attempt to determine who my father was. It chronicles my determination to go on, regardless, not letting the mystery hinder my progress as a human being.
The Great Grape Jam: This is just a fun acoustic guitar jam, that would translate effectively to electrics. I threw in the lyrics to justify getting-down in front of folks, because jamming holds more value for musicians and less for listeners.
In The Son: Purely an acceptable God-song that is one of the originals that I've been able to perform with Ecclesia.
A Better Day: A forward-looking song that sums up anticipation of a better day ahead, as I am crawling out of my past, regardless of appearances.
Mirror Image: A favorite at the ol' Teen Challenge Coffee House and Book Nook, inspired by a sermon by Brother Bryan.
Mary's Little Rock-N-Roller: I get a lot of flack about this tune, so I rarely get to perform it in public. If I'd written it about Christ's mother, Mary, I would deserve all the harrassment that I get, but it was My song about my wife and the expected arrival of MY son, with some references to the Holy event. So don't get so uptight, kay?
When I Get Down: Just a humble tune about feeling lonely, blue and abandoned. As well as being able to look and the bright side, thanks to God.
Come On In and Remember Me: More Ecclesia tunes.
Together Again: Celebrating separation and reunion, between brethren, the lost and the found.
What No Man: Another Ecclesia tune about our inability to imagine what the future holds for the faithful.
Thank You, O' Lord: A fitting stand-by for wrapping up spiritual gatherings at Teen Challenge, and this tape.
CRAWLING OUT AND SETTLING DOWN
Thanks for picking up a copy of this limited edition cassette. It's really the only thing that really helps me think that I ought to be doing this, in the first place. So, I really am appreciative of all your support (all ten of you).
I suppose that is not entirely true, because I would write the songs even if no one was listening – only becuase (for me) it's therapeutic, this is more like my diary. So, keep in mind that these songs are very personal, and aren't meant to be commercially acceptable to the masses.
This last year has been an exciting struggle for me, getting out of the turtle-traveling of my past. I'm newly married, settling in to Aberdeen, Washington, where my wife, Mary and I are expecting a new baby.
It's amazing what crawling out of one's past and into new life with your own family can do to one's perspective on life on this planet, as a whole. I'm still a sarcastic, free spirit, but see a much brighter future on the horizon.
I've been playing music around, both independently and with a local Christian band, Ecclesia. I also have a day-job at the local Strings & Things Music Center, where I am lucky to meet real musicians that are really talented, and know how to sing properly. I've also been able to share the stage with folks whom I admire so much, that makes it all worth it.
I'd like to thank Teen Challenge for the opportunities, Rhema Fellowship, and the revolving cast of Ecclesia for letting me air my dirty laundry in public, and God for accepting me as I am.
Keep on keepin' on,
Dave-Michael Valentine
Recordings created by New Lou's Muse in Aberdeen, Washington 1977.
Special thanks: Mary for being supportive and understanding, Norman (stormin') Claassen, Brother Bryan and the Rhema Fellowship crew, Mike Aronson, Ken and Lauri Lawson, Devin Backholm, Everett Hughes, Richard LaMere and Teen Challenge Northwest, Bruce Jakola, Dave and Doug Patterson, The Quicks and many more whom I keep in my prayers.
Recordings were selected by best sonic quality available at press deadline. (Not necessarily by best performance.)