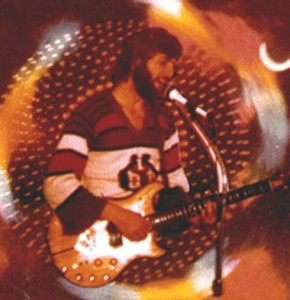 "All of us who, 'walk the walk,' are only one step away from the fate that has befallen others less (or more) fortunate than ourselves." .
"Daddy, Where Are You? is a simple child-like cry of a son, who doesn't know the identity of his biological father. I wrote this, after my failed attempt to determine who my father was. It chronicles my determination to go on, regardless, not letting the mystery hinder my progress as a human being." .
"I would write the songs even if no one was listening – only becuase (for me) it's therapeutic, this is more like my diary. So, keep in mind that these songs are very personal, and aren't meant to be commercially acceptable."
"It's amazing what crawling out of one's past and into new life with your own family can do to one's perspective on life on this planet, as a whole. I'm still a sarcastic, free spirit, but see a much brighter future on the horizon."
"I never really learned to play, like some folks. When I turned thirteen, my Grandfather slapped a guitar in my lap and said, 'Play.' So I did, as best as I could. Mostly, I write." .
"I was sort of a social misfit and I drug this guitar around with me, kind'a like a security blanket. I'd sit on the grass at school during lunch and people would gather around and we'd sing folk songs. Sooner or later, I'd hook up with some other freaks and we'd play together and call ourselves a band."
"I'd play with anyone who asked me to. I guess that's why I haven't had that much exposure, personally, because musicians are pretty flaky. You know, you work real hard with a bunch of guys, someone has a baby, personal crisis, or falls in love, then you're back to square one again. That's left me some opportunities to replace flakes, but I'm not a good enough musician to be a value to a band very long."
"I like all kinds of music, but if I were going to put together a band, and I could get anyone I wanted to play my material, I guess I'd probably put Billy Cobham, Stanley Clarke, Rick Wakeman, Phil Keaggy, Carlos Santana and the Supremes on the stage, then I'd put Larry Norman in my spot, just because I'd like to see him have the chance to play with these guys."
"Hey, if you sing like someone's skinning a cat, and can barely beat out a few chords on a guitar and can think of something to say to the beat, you can be a rock star."
"As far as I can tell, if anyone sees me play, it's nearly a friggin' miracle."
"I remember playing with my mom on tennis rackets, while listening to the radio, when I was really young. Then, I got a guitar for my 10th birthday. Although I only knew how to play two chords: C and G7 – with one finger. Then when I went to stay with my grandparents the summer when I turned thirteen, my grandfather taught me to play." .
"I had always been considered more of an unsociable outcast. I was pretty much the invisible kid. After I learned how to play guitar a bit, I started to interact with people more."
"(Kurt Cobain) lived with my brother at our mom's house for a couple of months in the garage on South Side. I met him once while he was staying there, we jammed to the blues a little bit. He wasn't very good. My brother and he talked a bunch of stuff that young dreamers talk about and as I recall, there was plenty of 'herbal influences' around at that time."
"I can write a song in the third person, step back, look at it, examine it and it helps me re-frame and get on with my life. Or I can write about what I see as shortcomings in others, as sort of a warning to myself, not to let myself get caught up in the same kinds of scenarios. I'd write, even if no one was there to listen to it. As a matter of fact, most of my songs never get shared in public. They're just too personal."
"Playing music is really the best job a person can have. Think about it: How else can you get paid to party for five hours? Plus, you have the added advantage of getting wonderful attention from the opposite sex."
"When I ask somebody out, its only because, in my mind, this person is a potential love interest for me. I'm already pretty much invested with my heart, by the time I get around to asking someone out, so I get hurt by women, only because to them one date is no big deal, but to me, if the dating stops with me, or if they decide to date someone else, too? I'm devastated. It's like my best friend just died. I suck at relationships."
"I've sufferred my worst failures, by following well-thought-out plans and goals that bite me in the butt everytime."
"I don't choose to engage in casual sex. I'm a lover, not a gigalo. That's just my personality. It's who I am. Not that sometimes I wish I could be more promiscuous… They say that, 'variety is the spice of life,' but that's just not me."
"I really do believe it is possible to find one's soulmate using the Internet as a tool – because, if it's true, that there is one perfect person out there, perfectly suited for you – you could break down all the barriers of being separated by geographical space. I think it's a really cool concept."
"I have a few really close ones (friends), that I'd take a bullet for, and they'd do likewise. I can talk to them about anything, at any stage in my life, and they can have that same level of intamacy with me. I guess I have such a good, long-lasting relationship with them, because I never married 'em! Here's some good advice: Don't believe that Harry Met Sally B.S. – never marry your best friend."